Bengal is considered to be the home / of Indian Football. At one time Calcutta (Kolkata) was called the Mecca of Indian football. The year 1877 goes down in the history as the start of Calcutta-s or rather India-s tryst with football. Nagendra Prasad Sarbadhikary is acknowledged as the 'father of Indian soccer' for his pioneering role in introducing soccer as a teenager in the year 1877 at Hare School in North Calcutta . It is he who mobilized his classmates and started playing the game at the Hare School compound. Attracted by the enthusiasm of the boys in the school, the European teachers of the school & adjacent colleges encouraged Nagendra Prasad and his companions to promote the game among students in and around Calcutta . The Boys' Club, founded by Nagendra Prasad around this time, was the first Indian initiative at football organization.
Later Nagendra Prasad formed a series of sporting clubs in the 1880s, one of the first being the Wellington . Afterwards, he founded the Sovabazar Club, one of the leading sports institutions of colonial India.
In 1911, the Mohun Bagan Club caused a stir by becoming the first Indian team to lift the IFA Shield, a tournament previously won only by British teams based in India. Ever since Mohun Bagan defeated the East Yorkshire Regiment in that historic IFA Shield final in 1911, football became a way of life for most of the Calcuttans or rather Indians and to a great extent, Bengal became the home of Indian football.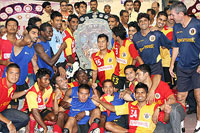 In Calcutta alone football clubs started growing in large numbers. Some of the oldest football clubs are Mohun Bagan (1889), Mohammedan Sporting (1891), East Bengal (1920), Aryans, Sporting Union, Kalighat, Rajasthan Club.
Santosh Trophy

Santosh Trophy is an annual Indian football tournament which is contested by states and government institutions. The first winner was Bengal, who also lead the all-time winners list with 31 titles till date.
The tournament first began in 1941, and was the premier football competition in the country before the National Football League started in the year 1996. The trophy as named after the late Maharaja Sir Manmatha Nath Roy Chowdhary of Santosh, which is now in Bangladesh, who had been the President of the Indian Football Association, the football organisation of Bengal and the donators of the trophy.
The runners-up trophy, Kamla Gupta Trophy, was also donated by the IFA

Winners: 31

1941-42, 1945-46, 1945-46, 1949-50, 1950-51, 1951-52, 1953-54, 1955-56, 1958-59, 1959-60, 1962-63, 1969-70, 1971-72, 1972-73, 1975-76, 1976-77, 1977-78, 1978-79, 1979-80, 1981-82, 1982-83 (Shared with Goa), 1986-87, 1988-89, 1993-94, 1994-95, 1995-96, 1996-97, 1997-98, 1998-99, 2010-11, 2011-12

Runners-up: 12

1944-45, 1946-47, 1946-47, 1960-61, 1964-65, 1965-66, 1967-68, 1968-69, 1974-75, 1985-86, 2006-07, 2008-09